I went to make a card for Holly - which I thought would be easy given the fact that she has quite a festive name! But I found it quite hard to make holly look babyish.
This is what I came up with: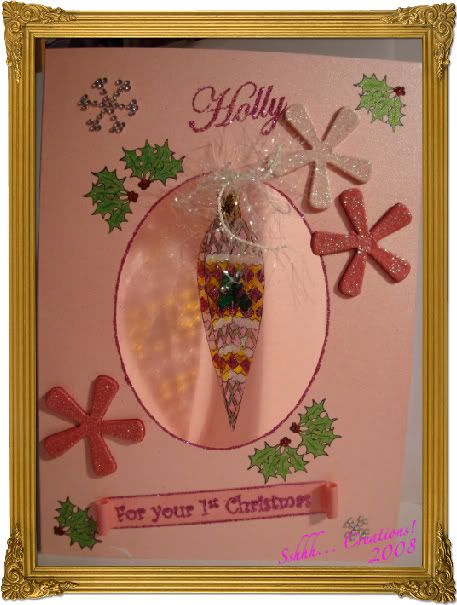 I have added an extra piece of silver mirri on the inside with more holly stamped and coloured with sakura glaze pens. I added this after I had given the card to Holly never mind after I took the photo!!
I had the "Holly" wording which came with the bauble stamp from Joanna Sheen, and I stamped and embossed it with sticum powder and stuck pink glitter to it. The baubles were stamped and glittered onto acetate and slotted through each other to create a 3D type bauble to hang in the aperture of the card.
The sentiment was printed onto pink vellum and (working quickly) I applied the sticum powder and glitter to it.
It wasn't quite what I was looking for but I suppose it turned out OK.
I hope you like it!!