This is another card that I made for Holly - this one was from Ma & Da so therefore for their Grand-daughter!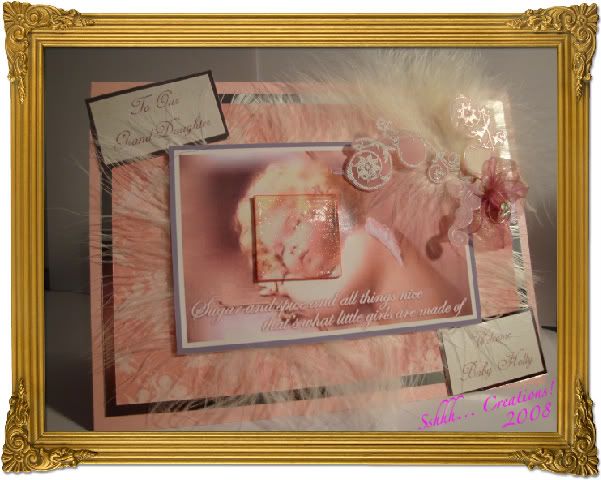 It's another image from Joanna Sheen's Baby Love CD and this time I punched out the face of the angel from the unused largest image using a square punch and another from some mount board. I mounted the picture up and tripple embossed it using holographic powder to give it a really nice sparkly effect. I coloured around the edges to correspond with the colour of the card and then carefully attached it to the main picture. I also painted the wing with a white H20 paint.
I mounted the image onto the matching backing paper from the CD and some mirri card along with some cream feathers sticking out from behind.
I made up an embellishment using some more of the feathers and stamped and embossed a flourish stamp - with white powder on pink vellum and with pink powder on white vellum. I cut around these and attached them to the feathers with wire. I tied a ribbon around the wire and curled a little flower onto the ribbon (this used to be for your hair!). I attached the embellishment using silicone glue.
I added the sentiments which were printed and mounted on mirri card, and in the words of Gordon Ramsey - Done!