I made a square card! I haven't made a square card in ages. I usually do A5 cards so it's a nice change for me.
I followed this sketch from Inspirational Card Sketches: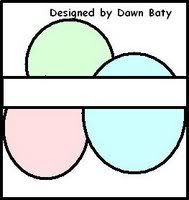 This is my card:
And the inside:
I used my yummy flower shapabilities - all three sizes! and I used my pro-markers for the second time! I could quickly become addicted to using those little beauties! I can't believe I was actually scared to use them!!
The papers are Doodlebug (stripey) and K & Co. (Flowery).
The gorgeous stamps are kneeling Willow and friends from the new spring set from Whiff of Joy. Isn't she just lovely!
I haven't decided what I want the card for yet - there are a few birthdays coming up and mother's day etc so I'll decide when I need it and add a sentiment then.
Cute Card Thursday are looking for signs of spring in your card - a double whammy here with the lovely bright papers and the stamp from the "spring" set!! ;)
That's it for now. Thanks for dropping by!