Yet another challenge card - I'm loving these!
This time I followed the gorgeous sketch from Sketch Saturday.
Here it is:
I think I'll use that one again as it's so lovely!
And to fit another challenge in I went for Arty Girlz challenge which is called "Button It!" - speaks for itself really!
So here my try..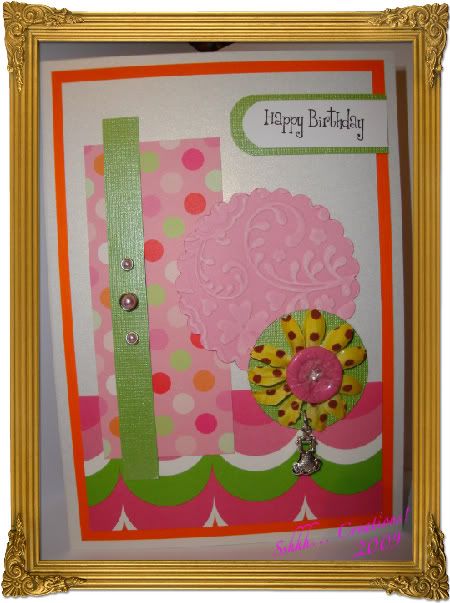 I was much happier with the finished card this time than I was with my last card - although I think it looks better IRL - always the way!
I used backing papers from Glitz Design and Rayher and Core'dinations - all bought at a local craft shop.
I ran the punched circle of core'dinations through my cuttlebug and then sanded the embossed bits slightly.
I also added a floradoodle bought from Joanna Sheen's shop and added a button (from stash - probably off a coat or something!) and a little dress charm from MAC.
I finished it off with a few brads from stash - (I don't know where I got them, I just emptied them into my brad box!) and my very-much-used "Happy Birthday" stamp by Anita's.
I thinks that's that all covered. I almost made a card using no stamps at all, but then I added the Happy Birthday!
Here's the inside:
I hope you like it!