About time I had this finished!! I started it last week and didn't get it finished and then I never got back to it until last night! So just managed to squeeze a couple of minutes to stick it onto my blog....phew!!
I followed this gorgeous sketch from Anki at Roses on Paper:
And I came up with this:
Apologies for the terrible pictures I keep showing, I can only craft in the evenings so I never have natural light to take my photo's and this is the best I can get at the moment. I shall have to invest in a decent light.
I used my lovely Magnolia stamp which I thought suited for Valentines day. I coloured it with H20's, and stardust pens and highlighted with a glaze pen.
I'm afraid I can't remember what brand my papers are and I'm not at home now so can't go and look.
The little bells came from The Pier. And the ribbons from stash. I also added a couple of Swarovski crystals to the small hearts on the ovals to the left.
Other challenges that it fits are:
Daring Cardmakers, who are looking for hearts on your creation - I have loads of them!
ABC, are looking for the letter X somewhere on your creation. Now, thanks to my fantastic photographic skills, you can barely see my X's. There is one between the couple where they are a bout to kiss and one in each corner of the sentiment.
And Charisma Cardz, who want to see the theme of love! Very fitting for this time of year!
Also, if I had've finished it on time, it would've fitted Our Creative Corner's challenge which was embossing resist, but I missed it and you can't really see that bit anyway!!
Finally, this is the inside: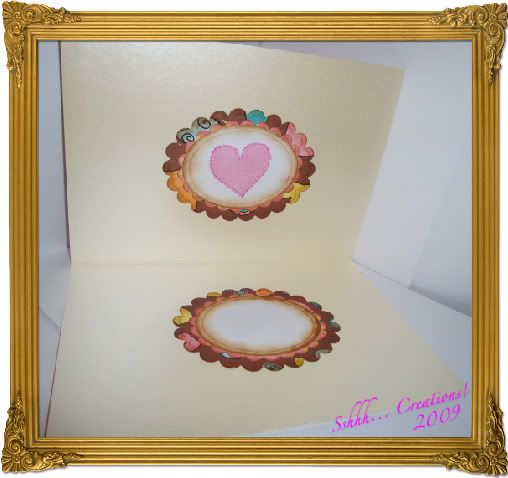 And I've just realised that I've added a couple of flourish stamps since I took the photo!
Oh, to be organised!!!
I hope you liked it!