I was really chuffed to discover that Andria at Iona Rose Designs has forwarded an award on to me!!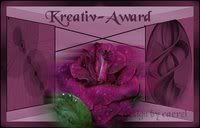 It really is just lovely to think that you're being thought of (if you know what I mean!!)
So thank you so much Andria - go and check out her blog if you haven't already!
So now I have the o-so-difficult job of picking just 5 other people to pass it on to.
5.... There are just so many blogs that I LOVE!
So after much deliberating and looking and changing my mind and scracthing my head I've come up with the following:
In alphabetical order
Bev @ All the things I love
Dawny P @ Pink Piggy
Edna @ Edna's space
Jak @ Crafters Kitchen
Rica @ Rica's Haven
I look forward to catching up on all these blogs and I find them so inspirational.
I'd also like to thank them for sharing their creativity with all of us.