I went to a pub quiz last night – my second pub quiz ever, and the first one was years ago! The rest of my team was made up of my mum, 2 sisters and my friend. With extremely low expectations, we were delighted to come third! And with the top 2 teams breaking the rules by having 7 & 8 people on their teams :O – rather than the 5 in the rules – we really won!! As it was for charity though, they were allowed to keep their positions, so we were gracious in defeat. To their faces anyway! Lol
I then got up early this morning to watch the grand prix in Malaysia. It was a really good race and I was delighted to see Nick Heidfeld on the podium – He's one of the drivers that I met a couple of years ago, so I have a wee soft spot for him!
Anyway, I was asked to make an anniversary card, I think I may have mentioned it before, but I struggle with anniversary cards for some reason – I'm putting it down to the fact that one half of the recipient is a man! So totally ignoring that fact, I went very pink with this one!
I used the fabby Rose Heart from Sketching Stamper, coloured with my copics. I added some Swarovski crystals for a bit of bling.
Just a wee note here, I don't know if it's just me, but sometimes I love the effect you get on the back of an image after you've coloured it, I thought this one was lovely!
The papers I used were Bo Bunny, Love Bandit and Pink Petticoat, pretty doodles. A few pink pearls from Wild Orchid Crafts some pink satin ribbon to finish off.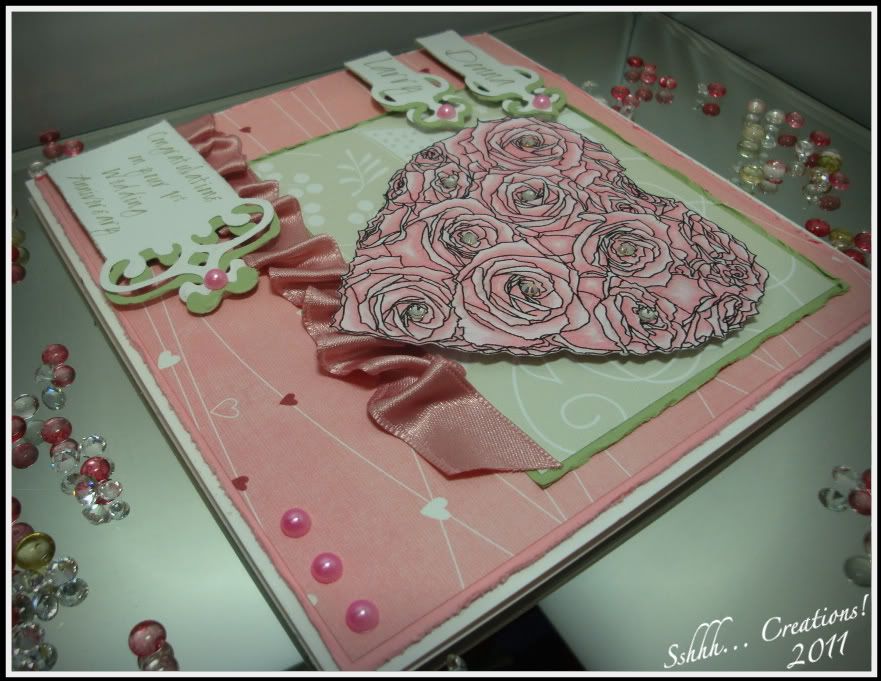 I brought the fancy tags element from the front through to the inside along with the same papers.
I don't usually make cards to stand like this so thought I'd do it this time to be a bit different. Then I discovered that it was too heavy and kept collapsing! I was just about to tear it off to re-do it when I had an idea – I ran some power pritt stick down the edges of the card where it would be standing. I let it dry before I stood it up and it gave the edges a rubberised sort of feel, so it didn't slip when I stood it up. It worked a treat! So there's a wee tip for you!
Quite a few challenges this time:
Anything Goes Challenge Blog; Pearls
A Spoonful of Sugar; Tons of Texture – the ribbon and the card – also I think the roses on the image give the effect of texture.
Charisma Cardz Challenges; Weddings/Anniversary's
CLP; Sketch

Copic Creations; Your favourite copic technique
Creative Inspirations; Punches & Dies
My Partner in Crafting Crime; Layer it up
Papertake Weekly Challenge; Anything Goes
ABC Challenge; R is for ribbon
Thanks for looking!