Hi everyone!
Yet another week has gone by and I don't know where it went to! I thought I'd be all organised now since the weddings are over but I just can't seem to get anywhere near organised!
And not only that, but another fortnight has gone by and it's time for another challenge at the
Alphabet Challenge Blog
. And if you haven't already guessed from my title, we're up to Q and it's for Quick and Simple - now there is a real challenge!! I usually spend hours making a card and sometimes even days!
But this one kind of happened by accident!
My little sister was heading off on a school trip to Paris and, as us big sisters have to do, I was giving her a bit of spending money for the trip. I was just about to leave the house when a thought popped into my head (it doesn't happen very often, so it surprised me!) that I should've made her a card for going. Then I was nearly knocked off my feet when another thought popped into my already thought-filled head - I could make her one now with the bargain stamps I bought ages ago of Parisian themes!
So I took a piece of an off-cut from some DL shaped wedding invitations I made earlier in the year (I keep everything!) and scallop punched one of the short ends. I butted the other, straight edge, up on my score-board and scored a line at the tri-fold mark. I folded that line then butted the folded side and scored on the same line, leaving a short piece that I folded and secured on the inside of the card to make a pocket.
I then went over the whole thing with my Parisian themed stamps in brown versafine and also in versamark to make shadows, and this is how it turned out
Front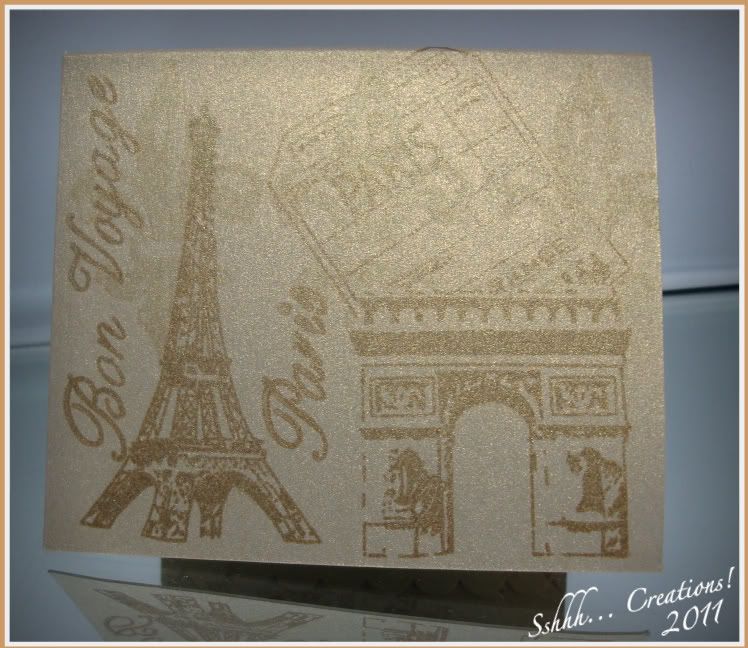 Inside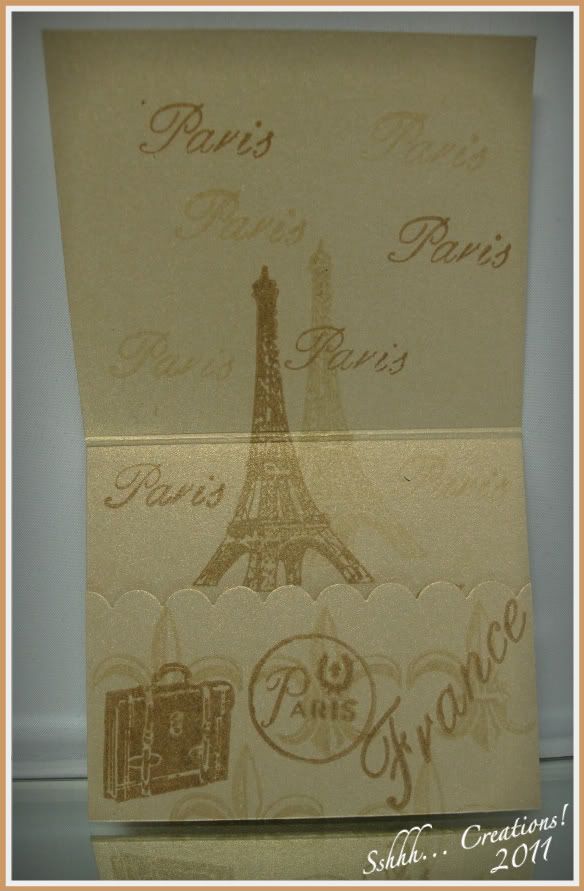 And with that all-important money in it!
It literally took about 5 minutes to make - including thinking time!
I'm entering this in the following challenges;
Less is More
: One Layer, seeing double
Jules Craty Snippet Challenge
, more of an off-cut than a snippet, so I hope it still counts!
Cute Card Thursday
: Anything Goes
Simon Says Stamp Challenge
: Sing it - Parisian Walkways by Gary Moore
Totally Papercrafts Challenge
: Clean and Simples
Trully Scrumptious
: Decorate the inside of your card
I thought I'd finish with the fabby song - Parisian Walkways by Gary Moore, I saw him a couple of years ago in the Waterfront Hall in Belfast, totally awesome and sadly missed.
Thanks for looking!