Before I go any further I'll have to ask any of my MAC October swap buddies to look away! This is the card I'm making to swap, but I haven't finished them all yet!
I'm showing it now, however, because it is my latest DT card for
Alphabet Challenge Blog
. Another fortnight has passed already and the new challenge is...
S for Soon to be Halloween!
And here it is...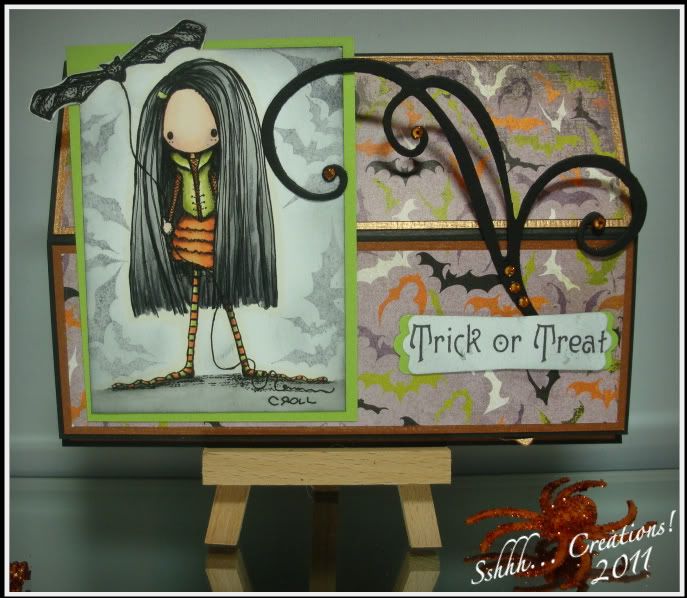 And it is of course an easel card!
The gorgeous image is Batty from
Tiddly Inks
- it's the perfect time of year to use their quirky slightly dark images - well, it's the perfect time of year every day! I've finally got my pro-markers back so I thought I'd use them for a change!
I used Pastel pink, Blush, Oatmeal &Sunkissed pink for the skintone. Burnt orange, Bright orange, Honeycomb, Olive green, Pear green & Aniseed (flexmarker) for the clothes. Black, Cool grey 5, 4 & 3 for the hair and shading and Ivory for the edges. I then finished it off with a bit of black prismacolour pencil.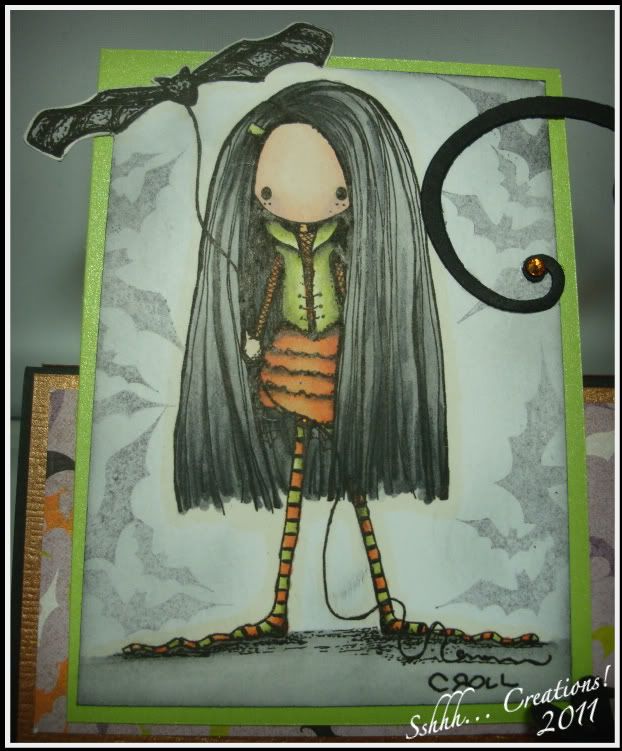 The papers are from the Basic Grey Eerie paper pad. I have used a load of Doo Hickey's on this too - I've finally got myself a swirl and the flower and tag (on the inside) are also Doo Hickey's. I couldn't resist adding some swarovski's to the fabulous swirl! The sentiment and the bats around the edge of the image are from
Waltzing Mouse
Halloween Party set and the sentiment has been punched out with a Stampin' Up! punch.
The inside has a couple more stamps from the Waltzing Mouse set on the tag and the ribbon is from my stash. Anything and everything has been destressed with a bit of black soot distress ink.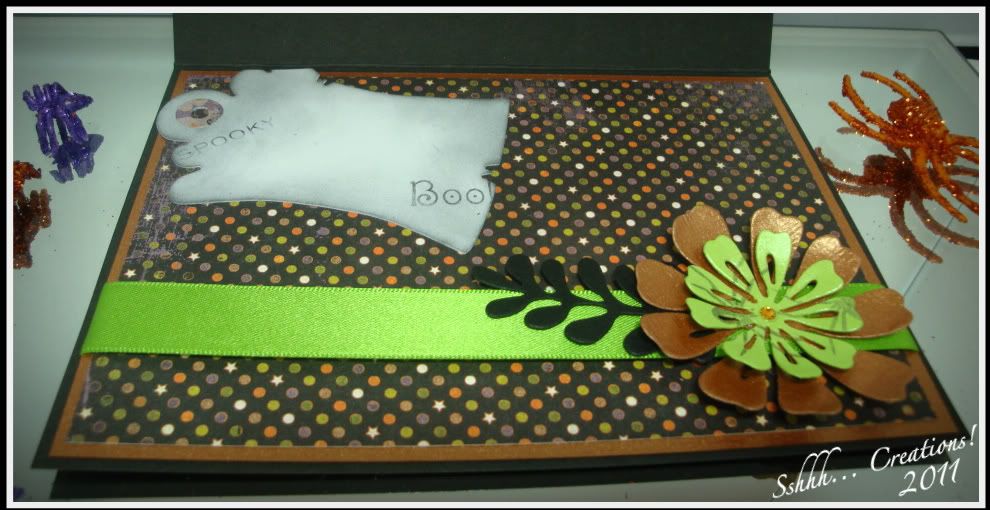 So that's it! I hope it hasn't scared anyone too badly - I had my scare last week when I discovered my blog had been hacked! :O But thankfully it's all better now.
Why don't you pop over to the
Alphabet Challenge Blog
to see the other DT's fab and spooky creations!
Edited to add...
I ran out of time on Friday to add the challenges I was entering this card into as I had to get ready to go to a ball on Friday night! la de da!
So here are the challenges I had selected:
Anything Goes
; Die cuts, punches or both
Crafts 4 Eternity
; Colour recipe
Creative Card Crew
; Spooky fun
Cupcake Craft Challenges
; Halloween
Fussy and Fancy
; Halloween
One Stop Craft Challenge
; Halloween
The Poodles Parlour
; Spooky Halloween
Simon Says Stamp Challenge
; Halloween
Thanks for looking!